Volunteering
RECRUITMENT CURRENTLY CLOSED.
PLEASE DO NOT APPLY AT THIS TIME.

Would you like to volunteer some of your time to become a member of a highly respected professional organisation, learn new skills, work with other Emergency Services and become part of our hugely successful team that save lives in your local community?
Then we want to hear from YOU!
DOWNLOAD THE APPLICATION FORM HERE.
(Adobe Reader required to open file – it can be downloaded HERE. )


"IS IT FOR ME?" – What's required!
'Voluntary work' shows a lot about the type of person someone is.  Each Marinewatch Volunteer is asked to give up just ONE NIGHT of their time per month on a 'roster' basis, and also attend training courses provided.
Our 110+ volunteers are on the lookout for anyone who may be in danger of entering the water, need someone to talk to, or contemplating self-harm – in addition to being on the lookout for any other dangerous activity in the Harbour which could cause drowning .  With the training provided, you will also learn how to identify suicidal people – engage with them and hopefully save their life, by explaining there are people who care about them and getting them immediate help.
A strict Safety Protocol is in place, and Volunteers also do Safety-checks on all life-saving equipment in the Harbour, replacing any damaged or stolen items while on patrol.
We do not enter the water, therefore our volunteers do not need to be able to swim.
Volunteers come from all walks of life – your occupation or background is not important – what IS important however, is that you are willing to learn, and make a difference in your community.  In return for this commitment, we will provide all our volunteers with a suite of free training courses such as First Aid, QPR Suicide Prevention, Water Safety, Real-life scenarios, RNLI Lifeboat exercises, VHF Radio training etc., – a lot of which can be hugely beneficial outside of your remit as a Volunteer.
ALL applicants must undergo Garda vetting & an interview prior to becoming a member of our team.
Just some of the training given:
Water Safety
First Aid
Throwbags / Liferings / Rescue Poles / PFD Training
QPR Gatekeeper – Suicide Awareness Training
VHF Radio Communications Course
Live RNLI Training Exercises – (Day AND Night)
Tides/Wind/Weather/Currents
& much more.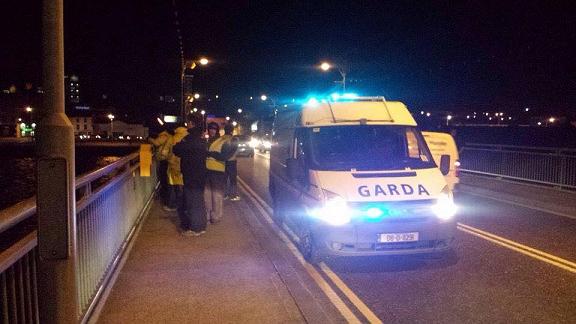 Restrictions
Age
Unfortunately there is a minimum age requirement of 21+ to become a volunteer – however there is no upper age limit providing you are in good health. We have an equal balance of both Male & Female energetic volunteers. Due to the nature of some of the intense training we do (Suicide awareness etc.), a certain level of maturity is required – therefore the entry-level age for Marinewatch is set at 21+, and we are very strict on this policy. No exceptions can be made unfortunately.
Abilities
The only ability you need to have to become a volunteer is to be energetic and willing to walk for considerable periods of time, in addition to being of good health with no underlying medical conditions. There is no other 'physical' requirement, as most of the other training is about 'awareness' and 'alertness' etc. – however good eye-sight and hearing is a prerequisite, as each volunteer needs to be alert to what is going on around them at all times. YOU DO NOT NEED TO KNOW HOW TO SWIM! – we do *NOT* enter the water – *EVER*!
Vetting
All applicants must undergo Garda vetting. If you are known to the Gardai for any reason, it is possible you may not be accepted as a MarineWatch volunteer. Under the Data Protection Laws, we do not discuss unsuccessful applications – therefore please do not ask. All Marinewatch applications are confidential and not discussed with any third-party. We do not discuss or disclose reasons with candidates as to why their application was unsuccessful, whether or not it was due to Garda vetting, or because of any other reason.
Driving
It is not necessary for you to be able to drive – however please indicate clearly in your application what type of licence (if any) you have, and provide a copy of your licence where possible.
We continuously monitor and assess the progress of each volunteer, to make sure they are comfortable with the training given and able to put it to use effectively. Training courses are run at various intervals throughout the year – however for Health & Safety reasons, a candidate will not be considered a 'fully qualified Team member' until all course modules have been completed. Until that time, they will 'shadow' a qualified person at all times, for the duration. Each new volunteer undergoes an initial 12 month probationary period and must show commitment to try and complete all training courses at the earliest opportunity. Regular assessments & appraisals are also carried out on all volunteers as standard.

We endeavor to make sure all Marinewatch Volunteers enjoy their experience with us; are safe at all times and have the best equipment and training available to enable them to provide the best response possible to someone in need of help in Wexford Harbour – we have a strict protocol and 'SOP's' (Standard Operational Procedures), along with a Health & Safety policy which must also be adhered to at all times. All Volunteers must also sign declarations to say they have read these policies upon joining.
So what are you waiting for?!

Its easy –  fill out the APPLICATION FORM (CLICK HERE TO DOWNLOAD)
then return by POST ONLY to:
The Recruitment Manager
Wexford MarineWatch
PO Box 81
Whitemill Industrial Estate
Wexford.
DON'T FORGET A RECENT PASSPORT PHOTO, UTILITY BILL & COPY OF DRIVERS LICENCE (if you have one)!
*PLEASE NOTE:
We cannot guarantee a place to every applicant, for a variety of reasons and we regularly close off recruitment to facilitate training of existing volunteers. The enrollment of applicants is an ongoing process throughout the year and we have different candidates at different stages of the training process .
Every application received is treated in the strictest of confidence – it is our Policy that we cannot (and will not) discuss or provide details to any candidate as to WHY their application was unsuccessful, therefore please do not ask – as refusal often offends.  This includes details surrounding Garda vetting.